January 21, 2020
Australian Artist Fights Fire with Passion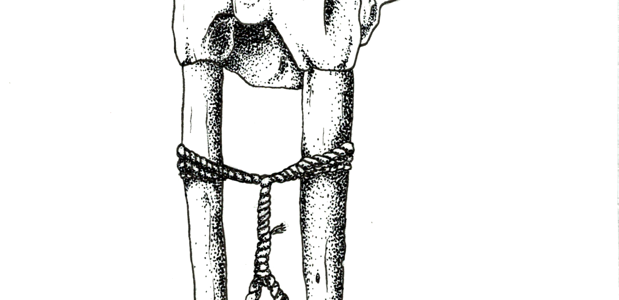 How You Can Help the Cause
By: burgundy bug & Natalia Bennett
Artwork of a noose dangling from a walrus skull by Natalia Bennett

Source: Natalia Bennett
Red skies, fire-tornadoes, and toxic fumes are currently consuming the land down under. To date, the 2019 – 2020 Australia Wildfire Season has burnt approximately 15.6 million acres of land, destroyed over 1,400 homes, and taken the lives of at least 24 individuals along with over one billion animals, according to a Climate Signal report from earlier this month.
"I live in Australia – which is currently and negatively quite famous at the moment for being 'on fire,'" Natalia Bennett wrote to us in an email on Friday. "We are now the middle of a crucial point in history with our environment, and our cause and decisions have reached a point where denial is simply facetious at this point. And in relation to endings and beginnings / a new decade – This work is a part of a cycle."
Her artwork was created using a fine-point pen and stippling technique on A5 cartridge paper, Bennett explained. This piece is a reflection on climate change and the death of a species at the hands of man-made destruction, with the noose symbolizing the "time-delayed death of the victim."
"I find it important to continue to relay the message not only using film media or photography (crucial visual evidence) but emotionally personal reflection using symbolic imagery," Bennett said. "When looking at it in depth it is symbolic of the death of the environment and the and renewal in climate action and mentality of recognizing change needing to take place."
We've partnered with Bennett to shine light on the impact of climate change and the wildfire season in Australia. Together, we're selling prints of Bennett's illustrations to donate 50 percent of the proceeds to the North South Wales Fire Brigade for relief efforts.
Illustrations of a koala and platypus by Natalia Bennett, prints available for sale by donation

Source: The Burgundy Zine & Natalia Bennett
Prints are available in 8.5-in by 11-in prints. If you are interested in purchasing the artwork, please contact us.
The Role of Climate Change in Australian Wildfire Severity
A comparison of the Australian fires to the California and Siberian fires in recent years

Souce: Statista
"Australia's climate has warmed by just over 1°C since 1910, leading to an increase in the frequency of extreme heat events," says a 2018 report from the Australian Meteorology Bureau. "There has been a long-term increase in extreme fire weather, and in the length of the fire season, across large parts of Australia."
Furthermore, rainfall has decreased in southwest Australia over the last few decades, contributing to an increase in droughts and a decrease in streamflow.
Natural climate events such as El Niño and La Ninã are partially responsible for year-to-year temperature variations in Australia over the last decade and a half, but the global warming trend has affected the impact of such events.
"Emissions from fossil fuels continue to increase and are the main contributor to the observed growth in atmospheric CO2," the Australian Meteorology Bureau explains. "The world's oceans, especially in the southern hemisphere, are taking up more than 90 per cent of the extra energy stored by the planet as a result of enhanced greenhouse gas concentrations."
Sea levels are rising, the ocean is acidifying, and fire weather conditions are worsening in southern and eastern Australia as a result of climate change.
The state of the Great Barrier Reef, as of 2017

Source: How dead is the Great Barrier Reef? | Vox
Fighting Fire with Passion
The whole world is watching as Australia grapples with some of the worst wildfires in the country's history, yet it's hard to know how to help when an ocean stands between you and Australia.
However, every bit helps, from raising awareness to donating to organizations such as the NSW Fire Brigade, Australian Red Cross, and the Port Macquarie Koala Hospital to assist with recovery and relief from the 2019 – 2020 Australian Wildfire Season.
If you are interested in purchasing Bennett's illustrations, which we will donate 50 percent of the proceeds to the NSW Fire Brigade's to help fund relief efforts, please contact us.
---
Head on over to Natalia Bennett's Instagram for more of her artwork!
---
Interested in having content featured in an upcoming blog post or issue of The Burgundy Zine? Head on over to the submissions page!
For all other inquiries, please fulfill a contact form.