October 22, 2019
Sanctuary by V.V. James | Review by Leah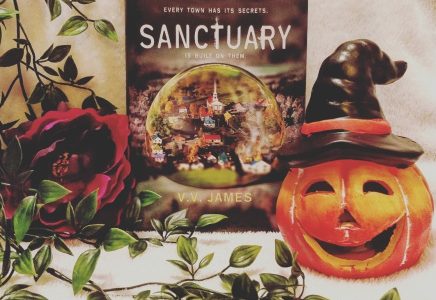 By:
Leah
The book "Sanctuary" surrounded by Halloween decorations

Source: Sanctuary by V.V. James Review | Leah
About The Book
Title: Sanctuary
Author: V.V. James
Pages: 448
Publisher: Gollancz
Published: Mar. 21, 2019
Rating: 4 out of 5 Stars
When the small Connecticut town of Sanctuary is rocked by the death of its star quarterback, Detective Maggie Knight must lead an investigation to discover what happened. Daniel's death looks like an accident, however his ex-girlfriend Harper, who was there when he died, happens to be the daughter of a witch. When Harper insists Dan was guilty of a terrible act, the town turns on her. So was his death an accident, revenge – or something even darker?
As accusations fly and secrets are revealed, paranoia grips the town, culminating in a trial that the whole world is watching . . . It's Maggie's job to keep the town and the investigation from spiraling out of control and solve the case.
My Thoughts
I really enjoyed "Sanctuary," it's the perfect book to get into a Halloween mood. There are witches. Need I say more? Hahaha.
The cover of this book is a perfect representation of the story. The town really is in its own little bubble.
"Sanctuary" follows the mysterious death of the town's star football player, Daniel Whitman, and the possible involvement of the local witch and her daughter. However, the town has secrets. Lots of them.
Detective Maggie Knight oversees solving the mystery of Dan's death, she was in Sanctuary five years previous and is having trouble remembering everything that happened while she was there. No one is telling her the truth. As things begin to unravel, she starts to piece together more and more of her hazy memories.
The way Dan died was very unexpected but made the most sense. I won't spoil that for you guys.
It's kind of frightening how something like this could possibly happen in real life. This is especially obvious with the involvement of the media in the story.
What I Liked
Witches!!!!
Maggie is awesome. That is all.
I really liked the different points of view each chapter. It was a great way to hear each side of the story from characters that were on opposite sides and stuck in the middle of the situation.
I loved the mystery of what happened to Dan. I couldn't put the book down because I was just dying to know.
I was completely hooked during the whole book. It kept me on the edge of my seat and had a lot of unexpected moments.
What I Didn't Like
It was a bit annoying how the characters would make up then fight in the blink of an eye. It's friend turning against friend and that broke my heart.
The story turns dark very fast. A major character throws themselves into fire.
In Conclusion
"Sanctuary" is definitely a must read this Halloween. Add it yo your to be read, you guys! You won't be disappointed.
Bye guys, happy reading! xx
Trigger warning: Rape, sexual assault, self-harming, coping with death of a loved one, death.
---
Head on over to Leah's blog for book reviews, hauls, unboxing, and more!
---
Interested in having content featured in an upcoming blog post or issue of The Burgundy Zine? Head on over to the submissions page!
For all other inquiries, please fulfill a contact form.