February 9, 2021
Tune-In Tuesdays #92: Thank U! by Vera Much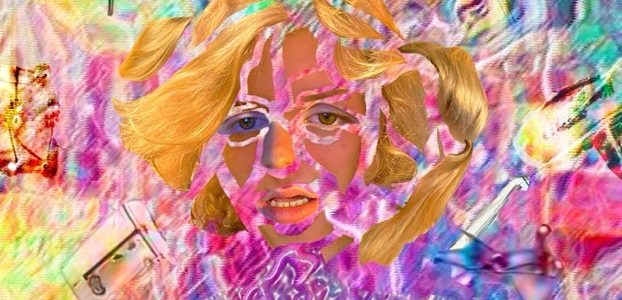 By: burgundy bug
"Thank U!" by Vera Much

Source: "Thank U!" | Vera Much
Songwriter and producer Vera Much takes listeners on an intimate, experimental, and sonically captivating journey with her debut EP, "Thank U!"
A Bit of Context…
Much covers her face with her hair while sitting in the grass in front of a pile of logs

Source: Vera Much
"Vera Much is a songwriter, producer, and multi-instrumentalist from Verona, New Jersey, based between Bennington, Vermont, and her hometown," the press release for her album says.
As Much describes in her Spotify bio, she makes "music for girls who go incognito mode to read about lesbian history because they ran out of free articles for the month [on the platform]."
Much's debut EP, "Thank U!" blends "hyperpop sensibilities with gentle indie songwriting a la Still Woozy," the press release explains.
"Tracks like 'Mortifying Ordeal of Being Known' and 'YOU' tackle issues of gender dysphoria and discomfort, while 'nausea' and 'parts in motion' tell intimate stories of incompatibility and miscommunication."
Following the release of her single, "something…," Much intends on releasing her first full-length album, "She… The Baby's Sleeping!"
The release date for her album has not been announced yet. However, listeners can look forward to long-form storytelling, psychedelic guitars, and chiptune melodies from the artist.
Thank U! by Vera Much
Right Now!
Immediately off to a sunny start, "Right Now!" boasts upbeat chiptune melodies that feel like the title screen to an old Nintendo game.
Short and simple, "Right Now!" is a catchy, poppy, trippy-electro intro track that hypes the listener up for the rest of the album.
Not only is the song catchy, but it's irresistibly danceable. Awkward-sitting-robot-dance initiated.
parts in motion
Starting with very heartfelt, emotive guitars and instrumentals, "parts in motion" has a dream-like beat and lyrics that waterfall after one another.
Lyrically, the track starts simple but still delivers on its intent from the getgo. You can feel that "parts in motion" comes straight from the heart. The trickling loop of "Tell me if it's urgent / Tell me when it's workin' / Tell me do you really hurt how you've been hurtin'" truly resonates with the listener.
The transition from the refrain in the intro to the verse is criminally smooth, too.
Overall, "parts in motion" is very atmospheric. The chiptune loop behind the verse and bridge adds another level to the track, as well. It almost feels like you're heartbroken and playing the Gameboy Advanced on a rainy, summer evening.
nausea
WOAH, WOAH WOAH. Hold. the. PHONE. The guest singer on the track, Amaaj, has the most beautiful voice I've ever heard. My goodness, when she sings "deja vu" it AWAKENS something in me. Something that reminds me that I'm alive.
The dichotomy of Amaaj's parts vs. the distorted breakdown in nausea moves the listener through the story of the track. It really demonstrates Much's ability to tell a story with sound alone.
Mortifying Ordeal of Being Known
A slick, beat-driven track, "Mortifying Ordeal of Being Known" is accented by subtle techno sound fx and backing vocal harmonies.
The instrumental breakdown goes hard. I had to stop mid review to shimmy it out and restart the track. Don't pretend like you didn't grove along to that, too.
"Mortifying Ordeal of Being Unknown" showcases Much's vocal and lyrical strengths. I just wish it were a bit longer since it's my favorite track on the album.
Lastly, the song transitions so perfectly into the next track on the album that I didn't even realize the song had changed at first.
important (it's not that!!!)
Much's vocal delivery on "important (it's not that!!!)" is on point. The lines are delivered with character, inflection, and expression.
Every aspect of the track — from the vocals to the instrumentals — feels like it has "parts in motion," if you will. It's constantly changing, blending, transitioning. The result is very vibrant and animated.
The instrumentals towards the end of the track take on a very chilling emotion. It almost sounds like screaming — but not like horror movie screaming. Like, loop-de-loop, steep-drop roller coaster screaming.
It's eery, but something about it also feels… Well, non-threatening, if that makes sense?
Anyways, "important (it's not that!!!)" is a very interesting song on the album.
YOU
As the last track on the album, "YOU" wraps the entire experience of the album to a T. It's very soft and slow, just like the second track on the album.
"YOU" is also quite delicate and intimate. It feels like you're crawling into a pillow fort and entering a precious, secret, safe space.
In Conclusion
"Thank U!" is an incredibly fluid, immersive, and atmospheric EP that highlights Much's talents as a storyteller, both in her work as a producer and a songwriter.
But what's truly impressive is how much the artist is able to convey in the EP's total run time of just 16 minutes.
While the press release compares Much's style to that of Still Woozy, it also sounds like a polished spin on the dreamy, distorted, lo-fi hip-hop album "Some Rap Songs" by Earl Sweatshirt.
The chiptune elements throughout the EP also add a flair that's very unique to Much.
There's so much self-expression and detail throughout "Thank U!," it has me incredibly excited for Much's forthcoming full-length album.
---
Stream "Thank U!" and "something…" by Vera Much now on Spotify!
Be sure to follow Much on Twitter, Instagram, and YouTube to keep up with their latest music releases.
---
Subscribe to have Burgundy Zine content sent directly to your email inbox!
Interested in having content featured in an upcoming blog post or issue of The Burgundy Zine? Head on over to the submissions page!
For all other inquiries, please fulfill a contact form.