February 23, 2021
Tune-In Tuesdays #94: Killing Me Softly by Becky Crosby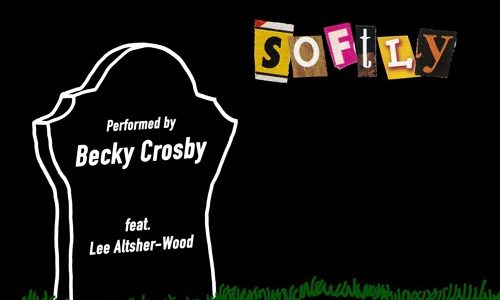 By: burgundy bug
"Killing Me Softly" cover by Becky Crosby feat. Lee Altsher-Wood

Source: Becky Crosby
NYC singer-songwriter and jazz voice major Becky Crosby puts a smooth, sultry, jazzy spin on the iconic, R&B Fugees single "Killing Me Softly."
Crosby's cover of "Killin Me Softly" will be available across streaming platforms on Feb. 26. However, we were given a sneak-peak of the single — and my Goodness, it is a jazzy slice of heaven.
About the Artist
Crosby is a 20-year-old singer-songwriting from the New York City area with training in classical, jazz, and contemporary voice.
Read: Tune-In Tuesdays #38: Becky Crosby – A Classical Introduction

The Burgundy Zine
Currently, Crosby is a Jazz Voice student at SUNY Purchase College. Following the release of "Killing Me Softly," the singer-songwriter told us that she intends on releasing two albums, as well.
"['Killing Me Softly] means a lot to me," Crosby told us via email. "I grew up loving The Fugees version, and was really happy to be able to arrange and record it in a style that I hadn't heard before. The melody and lyrics have really stuck with me through the years, so it was really awesome to cover this amazing song and put my own spin on it."
Killing Me Softly by Becky Crosby
After the personable beat-count-in to the track, the listener finds themselves engulfed in a robust horn melody. It's the audio equivalent to the richest, thickest, creamiest, most delectable caramel you've ever tasted.
It took me back when I first heard Crosby's cover. The jazz rendition of "Killing Me Softly" feels so fluid, so smooth, and so fitting.
But things truly start to take off once Crosby's vocals are introduced. The slight vibrato accents she incorporates are so subtle, yet so heavenly, it leaves goosebumps leaping down your limbs.
Her vocal range is truly remarkable, confidently gliding through lower, sensuous notes and swiftly swinging upward for a few of them. Her inflection, expression, and timing are entirely on point, as well.
Crosby's always been a very talented singer, but in this cover, her technique and confidence shine through on her delivery.
You can hear how she's grown as a singer — and hear how diverse her vocal abilities are — when you compare this cover with her previous releases, "I Know" and "Ghost."
Also, the jazz solo midway through the song feels like a carousing stroll through a prim and proper department store on a Sunday afternoon. And I LOVE it.
Overall, Crosby's cover is immaculately executed. It's such a delightful listen, and it feels like a very natural rendition of the original track.
We can't wait for you to hear the cover in just a few days, too.
---
Be sure to follow Becky Crosby on Spotify so you can be the first to hear "Killing Me Softly" when it's officially released on Feb. 26!
Make sure to follow Crosby on Facebook, Twitter, and Instagram to keep up with her future song releases, as well.
---
Donate to The Burgundy Zine
Subscribe to have Burgundy Zine content sent directly to your email inbox!
Interested in having content featured in an upcoming blog post or issue of The Burgundy Zine? Head on over to the submissions page!
For all other inquiries, please fulfill a contact form.